DISCORD ADVISORY FOR YOUNG PEOPLE
Discord is a free communication platform, founded at the game developer studio Hammer & Chisel by Jason Citron and Stanislav Vishnevsky, both online gaming enthusiasts. It was set up as a chat app for gamers to connect with their friends while playing games online, meant to be like a 'one-stop shop' to replace the many tools that gamers used to communicate. Discord allowed gamers to chat with each other, share pictures, and have audio and video calls.
WHY DISCORD GOT SO POPULAR
Discord now has over 350 million registered users and more than 150 million active users per month. Part of the appeal is that the app allows users to form 'communities' on servers (chat rooms) that have 'dedicated channels' for specific topics – everything from study groups to cryptocurrencies and even fashion, letting people make friends with others who have similar interests. Users can create these servers for free and manage their visibility. They are able to create voice and text channels and sort them into categories. Channel permissions override server permissions.
The app is available to use with computers and mobile phones, and more people turned to Discord during the pandemic when people could not meet with friends. It helped people choose how they wished to stay connected. Also, instead of running ads to make revenue, Discord earns revenue by offering a subscription service (Nitro) that offers users features like custom emojis and stickers, HD streaming, and bigger file sharing. Users are also allowed to charge a subscription fee for their servers, of which Discord then takes a 10% cut.
CONCERNS
Discord is not immune to things like hate speech, CSAM, and bullying, and this came into focus as more young people started using the service.
Discord also faces scrutiny because the app allows private conversations with strangers who have been added to a private chat room. Also, Discord requires its users to be at least 13 to create an account, but as with many other social media platforms, children younger than that still sign up and use Discord.
The app allows but does not moderate voice calls, and there is no written record of such calls, which raises questions about keeping sexual content and hate speech in check. Such calls cannot be investigated since there is no record. Discord does not store or record audio chats.
There are no parental controls on Discord, but parents can go through the settings on the app, where there is a filter on the app that prevents and blocks explicit content. It automatically detects and removes any images/uploads that contain explicit or inappropriate content.
Enabling syncing of contacts allows a user's contacts to be regularly sent to Discord. The app has a setting (Discovery Permissions) that allows other users to add someone if they have this setting turned on. It also applies to email addresses. It is best to keep this setting turned off.
WHAT CAN BE DONE
With an increasing number of teenagers using services like Discord in the aftermath of the pandemic, it seems likely that this service is here to stay. The popularity of this platform gave rise to many issues because teenagers have impressionable minds and are therefore much more vulnerable to being manipulated. Not to mention the risks to their mental health and well-being.
Discord is part of the DTSP (Digital Trust and Safety Partnership) , a collaboration of technology companies working to develop mechanisms to combat inappropriate behaviour and content on the internet. But it has also ranked in the top 5 apps/platforms that contain content related to bullying, violence, suicidal ideation, and CSAM.
In keeping with the aim of combatting inappropriate content and behaviour, there are various settings on Discord that users should be well versed in, in order to have a safe and peaceful experience. These are:
Users should not use their primary email ID to sign up for Discord. An alternative email address should be used.
Discord requires a password that is at least 8 characters long. Choosing a strong password with both uppercase and lowercase letters, along with numbers and special characters (e.g. @#$%)
Enabling Two Factor Authentication is another way to keep the account secure and prevent misuse. Discord uses apps like Google Authenticator or Authy for this. This can also be done with an SMS, but users will have to provide their mobile number to Discord so it is best to use an app.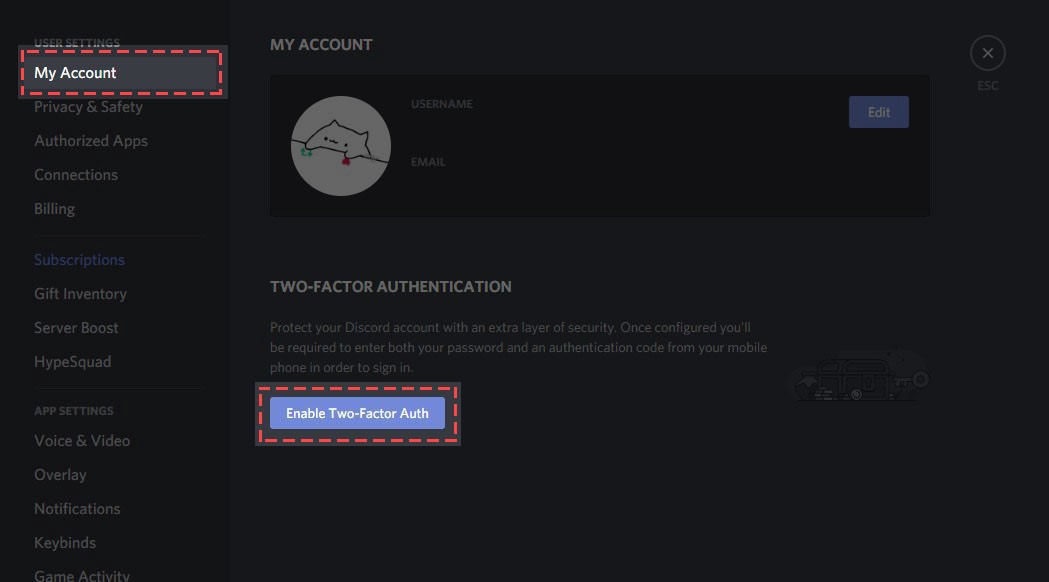 Explicit content – Users should keep their Privacy and Safety settings set to "Keep Me Safe". Discord will then automatically scan and delete direct messages that contain any explicit content.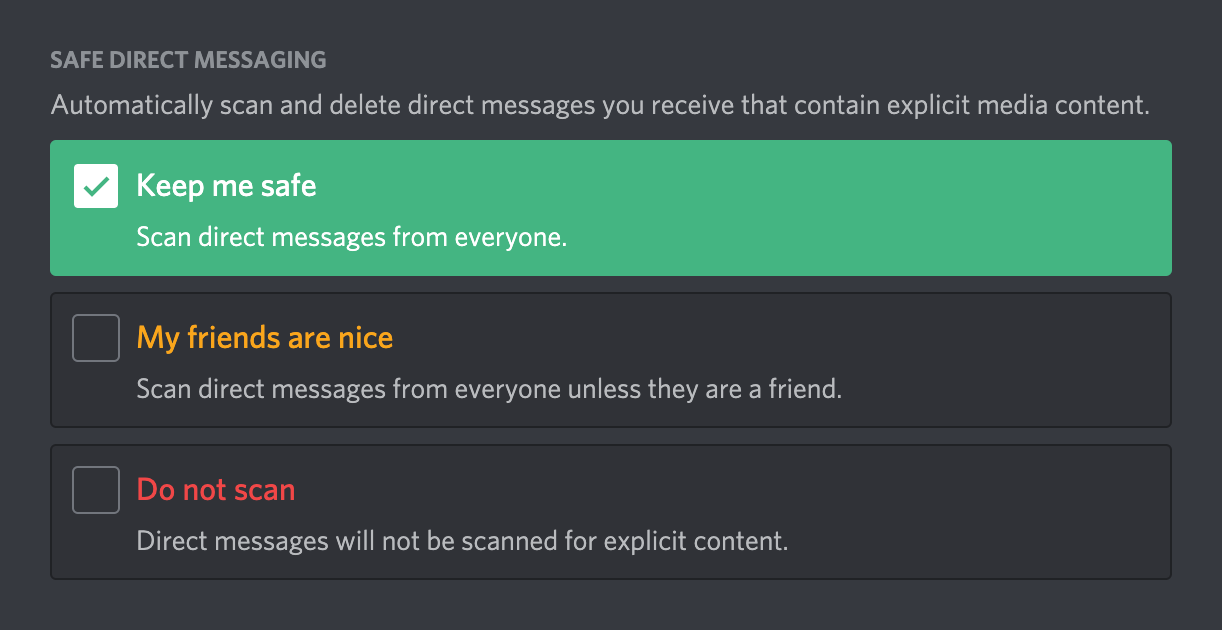 Settings for direct messages from other members of the server (chat room) can also be tweaked. It is important to note that when a user joins a server, the "Allow direct messages from server members" setting is enabled by default. This can be turned off in Privacy and Safety settings.
Users can choose whom they want to receive Friend Requests from. This can be found in User settings. It is best to keep this setting set to 'Friends of Friends' so that users are interacting with people they know beforehand.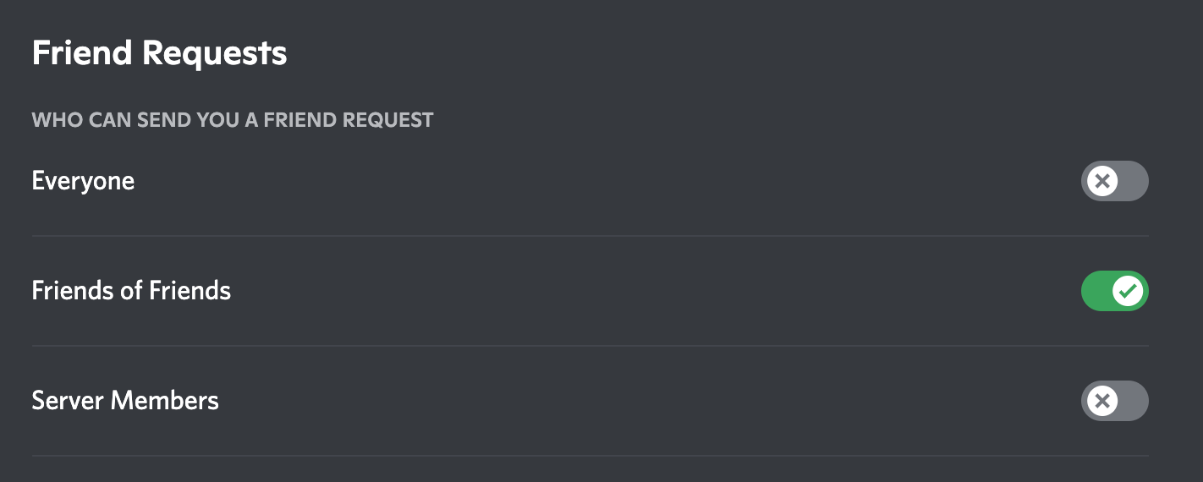 Users should also know how to block another user should the need arise. Blocking a user will prevent them from sending any Direct Messages, but will keep the chat history intact. To do this, one only needs to select the user, tap the three dots next to their name, and select Block.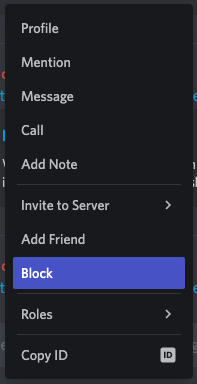 Luckily, there are also apps that parents can use to mitigate any ill effects, and for dealing with instances of bullying and CSAM:
Bark is a paid monitoring service that screens apps and platforms. It monitors content and location, filters websites, and even logs screen time. It scans emails and personal messages for any terms and phrases that could indicate concern.
Another good app is the Parental Control App by Kidslox, which can also block apps along with all the aforementioned services.
The Discord website itself provides all this information, and while children do tend to go with the flow and are likely to do what their peers are doing, it is important that parents talk to them and let them know of the consequences of 'worst case scenarios'. It is important that children understand this, not only to exercise better judgement but also to know whom to turn to in the event of a mishap. Because while parents teach their kids to be wary of strangers, things are different in the online world, so precaution is always better. Young people should be careful about clicking on any suspicious links, or downloading any files because these may cause harm. But most importantly, children should never share their account or personal details with anyone.
Author :Mr. Naman Sareen, Associate Researcher, CyberPeace Foundation