Introduction
Social media fueled by the internet has been revolutionary in bringing people closer together. The impact can be seen as now we have global communities for all agendas and issues, and news can reach billions of people within hours. But at the same time, these technological advancements have created a blanket of vulnerability in the digital age. Unawareness among the population is one of the leading causes of the rise in cyberattacks and cybercrimes.
Rise in Phishing scams
As per reports, nearly 30 crore people are vulnerable to phishing attacks in India, of which 5 lakh potentially fall prey to scams. This number has been rising significantly since the pandemic, and we hear of a new modus operandi of such scams every day. Despite this, under-reporting is a major issue faced by Law enforcement agencies and is giving the bad actors a new grey area to operate. These bad actors combine social engineering and vulnerabilities to lure people into their traps. They target the strata with the slightest awareness and maximum vulnerabilities and target people from metropolitan cities, towns, villages and remote areas.
Impersonating Delhi Police
Often we see that state police departments keep issuing advisories for various types of scams to safeguard the people, let see another case which was reported by a user on twitter it self, the post read as –
Just got an automated call saying "This call is from  @DelhiPolice
, a document of yours needs to be picked up, stay on the line and press…*garbled*. I randomly press 1, it connects me to a man claiming to be a cop, asking why *I* have called the police line Rahul Singh, sub-inspector Kirti Nagar police station
@DelhiPolice  , is who he claims to be, upon me pressing he identify himself. Then he asks me to tell him my name, types something *tap tap* and says "ah yes SUJATA, do you have any documents missing. Aadhar PAN ATM card" lol. Obvious at this point yeh scam hai, I'm mildly curious and I say "nope I've got everything". Next question, "You've not heard of Vipul Singh? Caught with all these stolen ATM cards?" "Nope". Well SUJATA, one of the cards has your name on it. Can you confirm the last 4 digits. Bass means my patience is this much only, Sunday morning hai after all. Toh I hang up saying "I'll get in touch with Kirti Nagar police station directly". Anyway, the automated call and the English-speaking man on the other end were VERY convincing. +91 96681 9555 was the number.
This tweet clearly shows hope te bad actors are now using automated voice machines and impersonating Delhi Police to win the victim's confidence. It is pertinent for netizens to remain safe in terms of online safety and should never fall prey to such fraud and bogus calls.
How can I safeguard myself?
The following protocols can be inoculated among the users to avoid and prevent phishing attacks –
Employ common sense before handing over sensitive information
Never trust alarming messages
Do not open attachments
Avoid clicking embedded links
Keep your software and operating system up to date
Never respond to any spam
Think before you click 'unsubscribe'
Keep your browser updated
Use anti-spam filters
Conclusion
Such scams are more prevalent than ever, and the netizens must arm themselves against them. It is important to understand that scammers are not smarter than us. They just exploit the vulnerability in a person, but this can be avoided and prevented if we follow the basic cyber security protocols and practices daily. Moreover, it is an essential duty to report the bad actors, and this responsibility needs to be upheld by us all.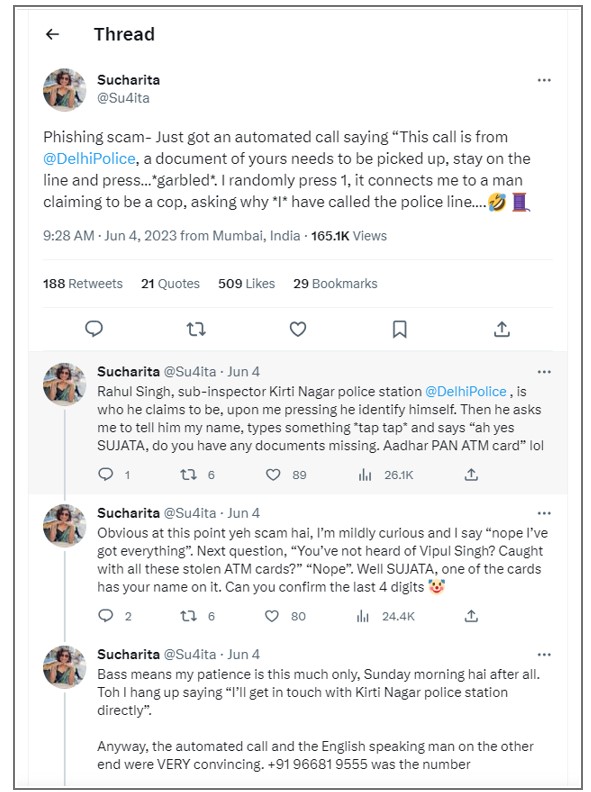 Authors: Mr. Abhishek Singh, Lead – Policy and Advocacy, CyberPeace