Online Child Protection Seminar Held at Panaji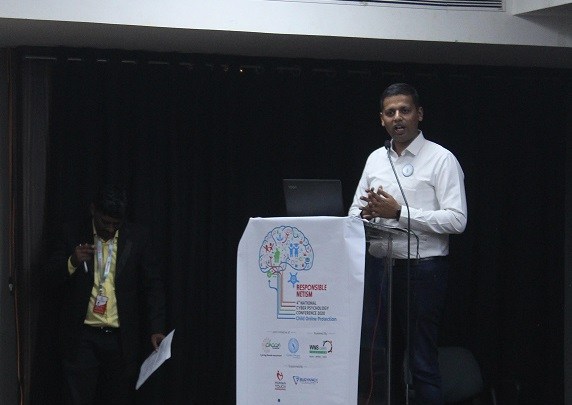 In a first of its kind, a seminar on online child protection was held in Panjim, Goa at Multipurpose Hall, Patto on 10th January 2020. The seminar was a joint initiative of Ahaan Foundation, Cyber Peace Foundation supported by Human Touch Foundation.
Delivering keynote address, Capt. Vineet Kumar, Founder of Cyber Peace Foundation spoke on the landscape of cyber-crimes against children. He explained the impact of technology on adults and children briefed the participants about the trend of crimes across the country. He explained various terms such as data tampering, spoofing, phishing, hacking, UPI and VOIP. Through presentation and case studies, he discussed the heinous crimes related to cyberspace. He said that CPF are creating volunteers, ambassadors and also setting up clubs in the schools to promote responsible online behaviour and cyber ethics
Further, Sonali Patankar, Founder of Responsible Netism spoke at length on the internet addictions, online distress and psychological impacts on children. She discussed various issues such as identity theft, stalking, cyber bullying, the prevailing knowledge regarding the crimes occurring in cyberspace is inadequate and addiction to pornography. She further said that the prevailing knowledge regarding the crimes occurring in cyberspace is inadequate and proposed long term interventions in the state of Goa in educational institutions in partnership with Human Touch Foundation
Unmesh Joshi, Director Projects, Ahaan Foundation, Co-founder Responsible Netism spoke on impacts of cyber-crimes against children connecting it to Information Technology Act, Juvenile Justice Act and POCSO Act and many other internet security issues
Awareness regarding online safety is limited among victims as well as caregivers and service providers in Goa. The lack of digital literacy and online safety measures expose these children to new forms of abusive threats, said Peter F. Borges, Founder of Human Touch Foundation.
PSI Devendra Pingle also spoke about the various initiatives and efforts by Cyber Cell of Goa Police and the reporting mechanisms for cyber crimes in Goa.
The seminar created awareness (and alarm) for the audience for the need to exercise caution while using technology. A total of 180 participants of the seminar included school principals, college professors, educationists, counsellors, mental health professionals, non-profits associated with children, law enforcements and child welfare committees.
Basavaraj Katti, Program Associate at Human Touch Foundation anchored the programme and Manjula Nair of Responsible Netism proposed vote of thanks. The seminar was supported by WNS Care Foundation, Buoyancy Consultants and Directorate of Art and Culture.